The military Leave and Earnings Statement (LES) is a vital resource for active duty military personnel. It enables service members to gain valuable insights into their financial status and make informed decisions about their money.
Whether you're a seasoned member of the Armed Forces or navigating your way post-separation, your LES equips you with the knowledge needed to take control of your financial future.
What is the Leave and Earnings Statement?
The Leave and Earnings Statement is essentially a military paystub for active duty personnel. Your LES provides a comprehensive breakdown of your pay and benefits, helping you understand your monthly income and deductions throughout your military service.
Your military LES form covers information relating to your compensation, deductions and entitlements. These elements typically include:

Monthly base pay
Additional entitlements
Deductions
Allotments
Tax withholdings
Thrift Savings Plan (TSP) contributions
Insurance deductions
Current available leave or earned vacation days
What does a Leave and Earnings Statement look like?
In terms of appearance and function, an LES closely resembles a standard civilian pay stub. The statement is organized into sections, each detailing different aspects of the service member's pay and benefits. These documents are not to be confused with the Statement of Service, which is used to verify a service member's current military status.
Here's an example of a Leave and Earnings Statement: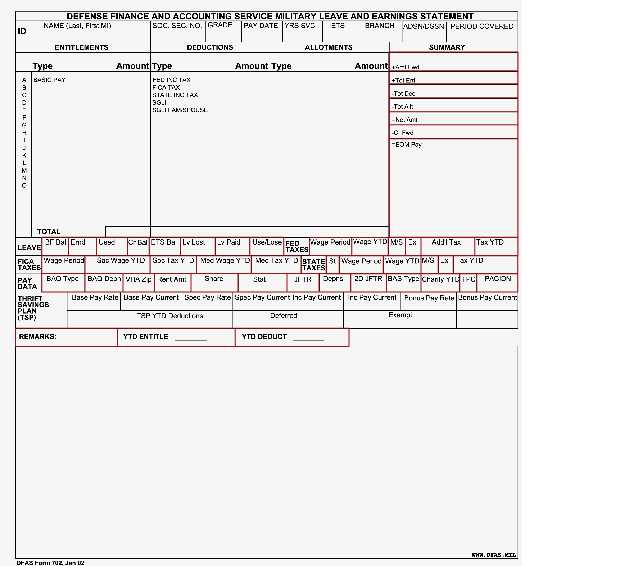 How to Get Your Leave and Earnings Statement
Accessing your LES is a straightforward process for most service members. The first step is creating an account through myPay, the online system designed for managing military pay and personnel information. Your myPay account will store your leave and earnings statements from the past three months, ensuring you have easy access to your financial records.
How do I access my military LES after separation?
The process of accessing your LES after separating from the military can vary depending on your circumstances and branch of service. Here's a brief overview of how to obtain your LES after separation from each of the following branches:
Separated Army Service Members: Your LES will no longer be available on myPay post-separation. Send a request to your servicing finance office.
Separated Navy Service Members: You can find your LES for the last 12 months on myPay. For older statements, call 1-888-332-7411 option #2.
Separated Air Force Service Members: Leave and earnings statements are no longer available on myPay post-separation. You must send a request to the Military Pay Historical Records Branch to receive your LES.
Separated Marine Corps Service Members: Leave and earnings statements from the previous 12 months are available through myPay. For older LES documents, request your pay records online.
How to Read Your Leave and Earnings Statement
When reading your Leave and Earnings Statement for the first time, you may be overwhelmed by the information it provides. See the chart below for a simple breakdown of the military LES to help you navigate your own statements:
| | |
| --- | --- |
| 1-9 | Identification |
| 10-24 | Entitlements, deductions and retirement |
| 25-32 | Leave information |
| 33-38 | Federal Tax withholdings |
| 39-43 | Federal Insurance Contributions Act (FICA) information |
| 44-49 | State Tax withholdings |
| 50-62 | Additional pay data |
| 63-75 | Thrift Savings Plan (TSP) information |
How should I use my military LES?
Your LES isn't just a piece of paper; it's a powerful tool that can help you establish and maintain healthy financial habits. Here are some ways you can leverage the information provided by your Leave and Earnings Statement:
Create a personal budget: Use your LES to create a comprehensive budget that outlines your income, deductions and expenses. This can help you make informed financial decisions and avoid overspending.
Plan for future expenses: By understanding your earnings and deductions, you can effectively plan for upcoming expenses, such as bills, loan payments and other financial commitments.
Monitor financial progress: Regularly reviewing your LES allows you to track your financial progress over time. This is particularly useful if you're working towards specific financial goals, such as purchasing a home using your VA loan benefits.
Ensure accuracy: Mistakes can happen, so it's crucial to review your LES regularly to confirm that your income and deductions are accurate.
Plan leave and vacation: The leave information section of your LES can help you effectively plan your vacations and leave to make the most of your time off.
How to Make Your LES Income Count Toward Your VA Loan
If you're currently in the military, you'll need to provide your Leave and Earnings Statement to qualify for a VA loan. Check out our guide to getting a VA home loan while still serving in the military to learn more about what to expect from this process and some major differences for active duty service members.
For those nearing the end of their military contract, VA underwriters will pay very close attention to your separation date. In order to use your LES income to qualify for a VA loan, one of three things must occur:
You have to close on a home loan at least 12 months before your separation date;
You have to provide evidence of employment after separation; or
You have to provide verification of reenlistment.
Reenlistment verification will generally include two documents: A sentence on your statement of service regarding whether you are eligible to reenlist and a separate document stating your intent to reenlist. Some lenders may also require you to provide proof of reenlistment before allowing you to use this income.
The 12-month cutoff from separation can be frustrating for planning purposes but is a necessary precaution for VA lenders – your income needs to be stable and reliable to consider it for loan purposes. If you're separating from the military in three months and don't have a job lined up, it will be difficult to make regular mortgage payments. From an underwriter's perspective, allowing a borrower to use income that will only continue for another three months is too risky.
Final Thoughts
The Military Leave and Earnings Statement is a crucial tool that provides transparency and understanding of a service member's pay and benefits. By familiarizing yourself with your LES and using it effectively, you can take charge of your financial well-being and make informed decisions about your finances. Whether you are an active-duty service member or have recently separated from the military, the LES empowers you to manage your money wisely and secure your financial future.